In recent weeks, states and communities have started lifting restrictions on movement and business operations amidst the Covid-19 pandemic. I suspect this will be a slow process. And, as many experts forecast, we may see a return to restrictions in the coming months. As I think about my experience since mid-March and imagine what is on the horizon, I am reminded of the statement by the Greek philosopher Heraclitus, "the only constant in life is change".
Humans need interaction; we are social by our very nature. We also like stability. Covid-19 has disrupted our way of life. Our days are now focused on business continuity, furloughs and job losses and the long-term financial impacts on business and personal finances. We work at home, with most of our only social interaction with our immediate household or through virtual meeting spaces. We primarily shop online (feverishly searching for essential home supplies like paper towels, disinfectant and toilet tissue) with curbside pick-ups or home deliveries, all while home-schooling and worrying about the long-term impacts on our children, loved-ones, and our communities. None of this is what we've ever considered "normal".
As individuals, families, companies, communities, governments, and nations move into the next phases of recovery, what will embrace as "normal"? I often question if many aspects of our recent routines will change. Some of these will be welcome changes while others will not:
Working Remotely

Companies may continue to have their employees work remotely while vacating expensive office buildings. According to a recent article in Human Resource Executive "As organizations adopt more technology and office space continues to shrink, options for where you work will broaden. Most jobs can be done from anywhere as long as you have an internet connection." Twitter CEO Jack Dorsey wrote in an email to employees that the company will allow almost everyone to work from home permanently. Google has also stated the majority of Googlers will work from home until 2021.
Education and Development
Health and Medicine

Physicians are using technologies to provide tele-med and virtual services to avoid having patients unnecessarily come to their offices. If this can be done during a pandemic, why can't it be done on an ongoing basis?
While crises and disruptions stop some activities, they also provide opportunities for innovation and creativity. Individual and organizational resilience does not mean returning to the "old way". Resilience is about the extent and duration of disruption. When disruption occurs, questions we should be asking include:
What can I do to minimize the extent of the disruption?
What can I do to shortened the time it takes to "recover" from the disruption?
What can I learn from this experience that will prepare me for the future?
When I was in high school, I took a course to become a certified SCUBA diver. One of the things I learned was how to respond in an emergency. That lesson has served me many times, including a time when I got tangled in a fishing line while 60 feet underwater. The less was simple: Stop. Think. Get Control. 
In 2014, Mary Wayne Bush and I wrote Coaching for Change. One of the frameworks we included was a change curve: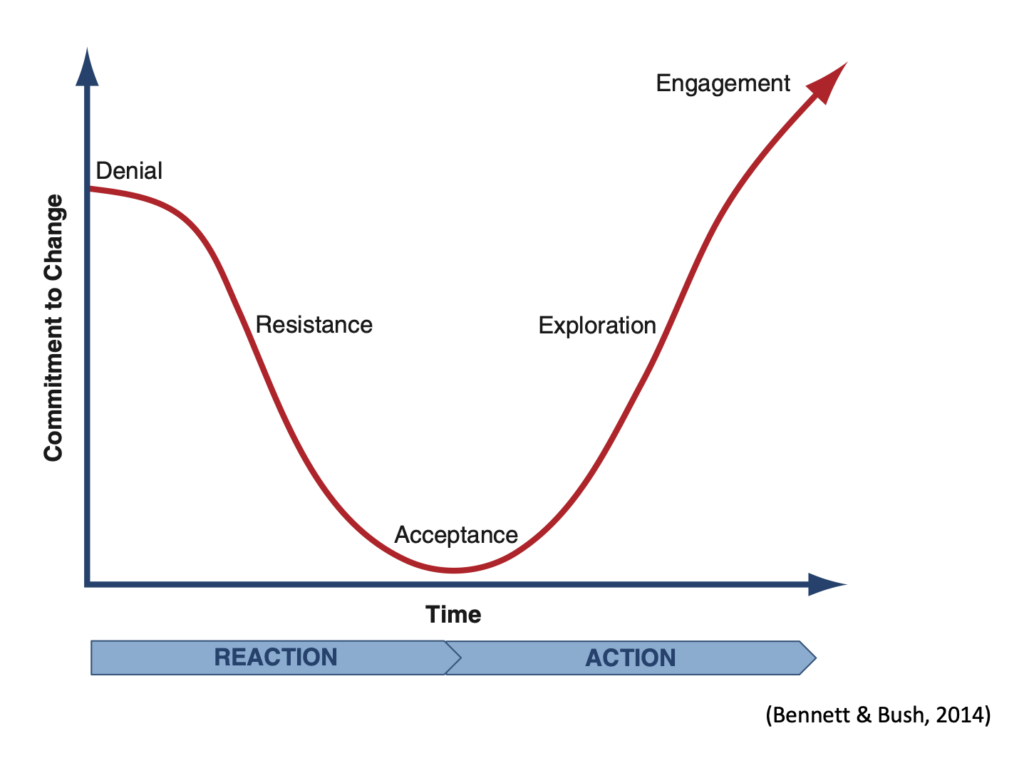 As change occurs, we (individuals and collectively as groups, communities, and organizations) tend to go through these stages from denial to resistance to acceptance to exploration to engagement. At the start of the Covid-19 pandemic, I thought about the virus impacting people in other countries and other parts of the USA … "it will stay there—not come here". I may have even said something like, "it will not impact me". Then, I realized and finally accepted the fact that it WAS going to impact me. When I left my office on campus at Queens University of Charlotte on March 11, I was frightened and uncertain. I took things from my office in case I was not able to return until January 2021 (or never).
Since then, I've adapted. I've redesigned the way I teach to make classes virtual, learned software programs to help me teach and students learn, redesigned the way I work with consulting and coaching clients, and am beginning to re-imagine how I will do my work in the future. And, I've started thinking about what emerging needs will arise and what new approaches will need to be developed. So, I've moved from denial to engagement. Along the way, I've taken steps back. Hopefully, I'm continuing to move forward while building my capacity to address an uncertain future. 
As we prepare for and emerge from this phase of the current pandemic crisis, let's ask ourselves:
What has changed? 
What has remained the same?
What have you learned that will help you prepare for a future that will be different?
What do you need to do to build your resilience?
Finally, in her book Mindset: The New Psychology of Success, Carol Dweck presents the distinction between having a "growth mindset" that perceives intelligence and ability as attributes to be developed and a "fixed mindset" sees intelligence and ability as innate and unchanging. Now is the time to practice a "growth mindset", build our ability and willingness to engage with change, and move through the change curve.
I'm interested in your thoughts. How has your "normal" changed? Please leave your comments below.
Photo by Anna Shvets from Pexels
______________
© 2020, John L. Bennett. All Rights Reserved.